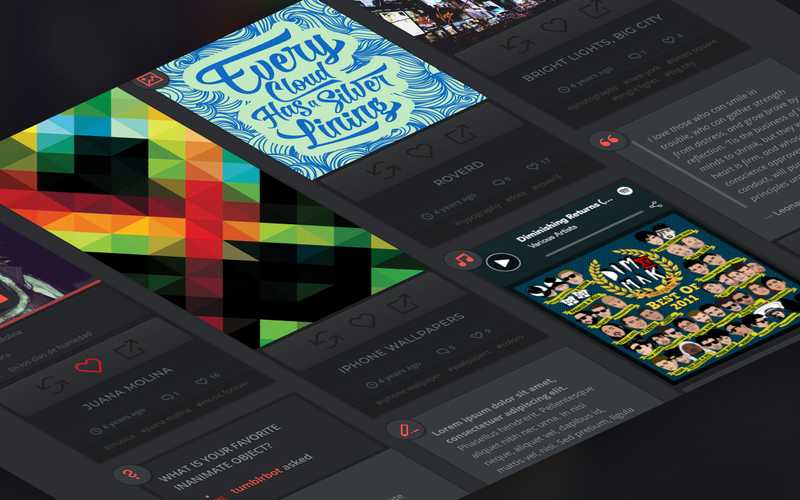 Quadro
Quadro is a sleek blogging theme with an emphasis on sharing. Its flexible masonry layout allows featuring posts—simply use custom tags to "embiggen" and draw attention to them. The sharing widget makes your content easily discoverable, and the off-canvas sidebar can also be "pinned" on desktop screens.
Sharp and Responsive Design
Quadro uses pure CSS and vectors for all the interface elements and is fully responsive—it looks great on any device and on high-density screens.
Ajax Post Loading and Endless Scrolling
Choose between regular static pagination links, Ajax post loading with the click of a button, or true endless scrolling without the need for user interaction.
Off-Canvas Sidebar With Plenty of Widgets
The off-canvas sidebar houses your widgets, navigation and more. It reveals itself at the tap of a button and can be optionally "pinned" on large screens.
Masonry Layout
Posts on the homepage grid can be "embiggened" simply by tagging them using special words. The grid can be wide or you can limit it to two, three or four columns.
Focus on sharing
Each post features a sharing widget with prominent "reblog", "like" and "share" actions, with a beautiful bespoke design.
Photoset Grids
Responsive photoset grids let you arrange your images in any way you want.
Titles for Image, Audio and Video Posts
You can display a title for these post types on the homepage by simply highlighting the first paragraph and making it bold.
Social Icon Services
Quadro includes options to display icons for the following services: Bandcamp, Behance, Blogger, Delicious, Deviantart, Digg, Dribbble, Email, Etsy, Facebook, Flickr, Forrst, Foursquare, Github, Google Plus, Instagram, Lastfm, Linkedin, Myspace, Picasa, Pinboard, Pinterest, Quora, Rdio, Reddit, RSS, Skype, Soundcloud, Spotify, Squarespace, Stumbleupon, Tumblr, Twitter, Vimeo, Wordpress, and Youtube.
Support for All Post Types
Quadro supports Text, Photo, Quote, Link, Chat, Audio, Video, and Answer post types.
Also Included with Quadro
One Design for All Screens
Fully responsive and retina ready, mobile-first design. Looks great on all devices.
Plenty of Theme Options
Change fonts, colors, layouts, show or hide elements, and more.
Google Fonts Ready
Customize headings and more with families from the Google Web Fonts repository.
Support for All Post Types
Text, Photo, Quote, Link, Chat, Audio, Video and Answer posts are all supported.
Social Sharing
Share your posts on the main social media outlets with minimal fuss.
Comments Support
Out of the box support for Disqus commenting system.