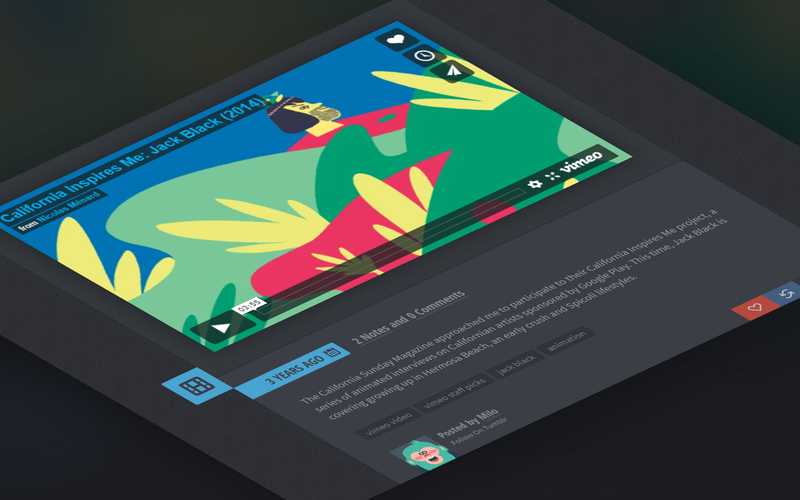 Milo
Milo is a spiffy blogging theme for Tumblr with slick transitions and plenty of customization options. Milo comes with seven pre-built color schemes to instantly change your blog's "look and feel", and all the options you need to create a bespoke color palette all of your own.
Fully responsive and retina ready
Milo uses SVG graphics or just plain CSS for all the UI icons and graphics and is fully responsive—looks great on any device.
Pre-built color schemes
Milo includes seven color schemes out-of-the-box: Asphalt, Clouds, Cream, Dashboard, Frost, Midnight Orange, and Monochrome, which can be previewed here.
Supports all Tumblr post types
Milo offers complete support for Text, Photo, Quote, Link, Chat, Audio, Video, and Answer posts.
Custom Image Logo
Display your custom image logo instead of the blog title—standard and retina options included.
Custom Backgrounds
Upload tileable image patterns as backgrounds for the main body, header, and posts media.
Filterable Posts
Filter your posts by tag, using the "categories" menu dropdown.
Slick Animated Sidebar
Milo features a slick sidebar with smooth CSS3 transitions and plenty of widgets: About, Navigation, Browse, Flickr, Dribbble, Instagram, Twitter, and Likes.
Get Social
Social icons widget with light or dark glyphs and colored, monochrome or transparent backgrounds.
Supercharged Photosets
Photosets can be displayed as grids or sliders.
Pagination Options
Milo features options for standard pagination, to load posts on demand —"click to load"— and endless scrolling.
Share Widget
Easily share posts on Twitter, Facebook, Goggle+, Pinterest, and by email.
Author Widget
Show author info on individual posts—useful for group blogs.
Also Included with Milo
One Design for All Screens
Fully responsive and retina ready, mobile-first design. Looks great on all devices.
Plenty of Theme Options
Change fonts, colors, layouts, show or hide elements, and more.
Google Fonts Ready
Customize headings and more with families from the Google Web Fonts repository.
Support for All Post Types
Text, Photo, Quote, Link, Chat, Audio, Video and Answer posts are all supported.
Social Sharing
Share your posts on the main social media outlets with minimal fuss.
Comments Support
Out of the box support for Disqus commenting system.